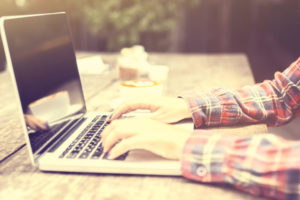 Thinking about hiring a psychology freelance writer to help with your practice's content?
For too many counseling practices, their web writing simply isn't getting done. Writing that could help search engine rankings and motivate clients to walk through their door is only a dream.
Hiring a freelance writer who specializes in counseling writing can help you immensely if you're falling behind.
Just how so? Here are five benefits of hiring a professional counseling writer.
Psychology Writing Gets Your Name Out There
Most counseling practitioners want to get their name on the web more but how?.
Often, it has nothing to do with a practitioner's writing skill level. There are many talented writers in your field. I can personally attest to that.
The greatest challenge is that few in your field have the time to provide their websites with consistent, relevant content.
If you can find a counseling freelance writer who's willing to ghostwrite materials for you then getting noticed will no longer be an issue.
Whether you need help with an e-book, paperback, blog articles or newsletters, you'll be able to sign your name after the writing you receive without the worry of creating the materials although your input can guide the creation process.
As shared in the frequently asked questions section of this website, I offer the option of ghostwritten pieces for you and your practice.
That way, you don't have to sacrifice the important work you already do, your health or your family to set yourself up as an authority in your field.
Improved Search Engine Rankings (SEO)
A high volume of quality writing will improve your SEO. While great writing is only one component of a higher search engine ranking, it's an essential one.
The writing you provide will either prove or disprove to Google that your services are valuable and that your website should be ranked higher based on the information you provide.
Although it's getting harder to rank highest in a common search category, good and consistent writing are some of the chief components essential for ranking higher than the competitors in your town, city and beyond.
No matter how good your services are, if potential clients can't easily find you on the web, you won't be able to reach your maximum potential as a practice.
While psychology writers can't promise specific search engine results, skilled writing, as part of an SEO plan, will only improve your online visibility.
It Increases Client Confidence in Your Counseling Practice
Not that long ago, if a prospective client was trying to decide on a counselor, they'd drive by your facilities or stop in. While that still happens today, it's far less the case due to the web.
These days, your website is your number-one storefront. Too many practices fail to take this new reality seriously and needlessly suffer for it. It takes a combination of welcoming graphics, pictures and writing to impress a prospective client.
Especially in the psychology and counseling field, your website matters in a big way. Your future clients will share things with you that they may not even share with their closest friends or spouse.
For this reason, your prospective clients need to know that they'll be OK with you. One of the first ways they often gauge whether they'll be "OK" is by going online to get their first impression of you.
An e-book given to clients as a gift who sign up for your newsletter, for instance, can go a long way in building trust (not to mention build your credentials at the same time). You'll show that you're kind, generous and competent before you ever shake hands with your first client.
Blog articles are a way of saying you care, are down to earth, can be trusted and are a professional. You can offer timely advice aimed at the multitude of circumstances your clients face.
Your Writing Works for You Months and Years Later
Web writing, in the form of "evergreen" materials, stay on your website for years, drawing in potential clients and making them feel welcomed.
Even when your website design is out of date, for the most part, your words will be just as relevant as they were years earlier. That means you receive a great investment that's sure to pay off for a long time.
Although there will always be a need for new writing, your clients, old and new, will dig through your archives looking for what they need at that moment. This will set you up as an authority in your field who cares about the wellbeing of your clients and community for years to come.
That said, consistent publishing of new content on your website is important to maintain good search rankings.
You're No Longer Worrying About Your Content Marketing
That's because things are getting done.
And none of that had to happen because you gave up time with your family or the chance to focus on your own personal wellness.
You know all too well what it's like when you don't take care of yourself in a field like yours. So, you went and got the help you needed.
Rest easy.
That nagging feeling of a website that might not reach your clients can fade quickly.